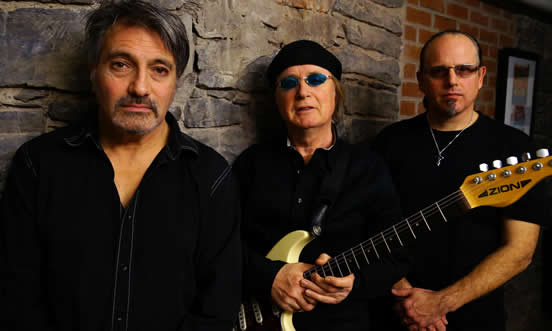 Artist Links
About Kim Simmonds & Savoy Brown
Savoy Brown was formed in London, England in 1965 by guitarist Kim Simmonds. Originally a UK version of a Chicago blues band, the group developed into a classic and highly original rock band but always managed to keep its blues roots intact.
The first album Shakedown in 1967 on Decca records was one of the major UK releases that year that helped spark the British Blues Boom.
Later albums such as Hellbound Train on London records in the 1970's cracked the Billboard Top 40 charts and the band is therefore one of the very few blues band ever to have such commercial success.
Kim Simmonds has always led the band, through many personnel band changes and is considered one of the best and most underrated blues/rock guitarists in the world today.
Savoy Brown music, along with Kim Simmonds' guitar style, has been a major influence on countless bands and musicians stretching from Jaco Pastorious in the jazz field to Judas Priest in the heavy metal genre.
In later years, albums such as Voodoo Moon on Ruf records in 2011, stayed in the Amazon top seller blues sales for many weeks continuing a legacy that allows the band to tour the world successfully with trips to Europe, Japan, Brazil, Canada and throughout the United States.
Currently in 2013 Kim and the band, now comprising of Pat
DeSalvo on bass guitar and Garnet Grimm on drums, have a brand new DVD/CD release Songs From The Road released by Ruf records that is, as of June 1st, in the top 30 of worldwide Amazon blues sales.
Looking ahead, Kim Simmonds and Savoy Brown have a new album release planned for January 2014 entitled "Going To The Delta".
Although not reaching the dizzy heights of top of the charts and more to the point, not concerned to, Kim Simmonds and Savoy Brown have carved a special niche within the music world and have become one of the longest, continuously running blues/rock bands in the world today.